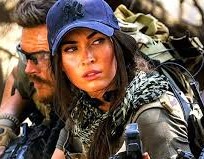 In this episode Mike, Rich and Steve take a look at ROGUE, in which Megan Fox attempts to reinvent herself as an action hero, taking on human traffickers and a CGI lion. Take a listen to find out if she's been successful!
From a deadly cat to a deadly dog - our next film is ROPES, a Spanish thriller which finds a young quadriplegic trapped in her home with her helper dog who's turned rabid!
From Spain its off to China for SKYFIRE, a disaster movie in which a volcano erupts on an island containing a five-star holiday resort. This is directed by Con Air's Simon West - tune in to find out how this all turns out!
Our Short Shot is DEAD AIR, in which a punk band find themselves on a plane full of deadly creatures. Normally we'd link to the short itself but this one is available on Amazon Prime if you are a subscriber.
Finally, our DTV Throwback is DANGER ZONE, a real find as it stars Billy Zane and Robert Downey Jr in an African-set adventure!
Don't forget to like and subscribe/follow us on FACEBOOK and TWITTER where you can catch up on news of all the new releases and DTV Chart.