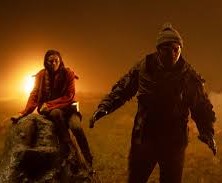 In this episode Mike, Rich and Steve look at a whole bunch of sci-fi movies. We kick off with SYNCHRONIC, starring Anthony Mackie and Jamie Dornan as two paramedics who come across a new drug messing people up. Anthony Mackie also stars in our second film, OUTSIDE THE WIRE, a Netflix original in which he plays a cyborg hunting terrorists in the Ukraine. Our final feature is ANTI LIFE, also known as Breach in the US. This co-stars Bruce Willis and Thomas Jane and is set on board a spaceship infected with an alien parasite.
Our Short Shot is FASTER - this is a follow up to the excellent The Cure, which we reviewed last year. Click the link to watch the whole thing.
Finally, we take a look at DARK BREED, a PM Entertainment film starring Jack Scalia as an ex Astronaut tasked with locating colleagues who have been infected/possessed by an alien parasite.
Don't forget to check out our FACEBOOK and TWITTER pages where you will find news about new released and our weekly DTV Chart!