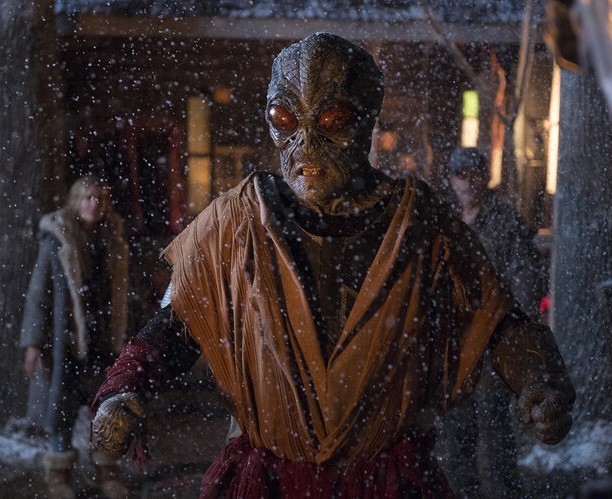 In this episode Mike, Rich and Steve tackle another bumper crop of new releases, starting with four sci-fi movies:
We start with OCCUPATION: RAINFALL, the 2nd instalment of the Australian alien invasion franchise which a mixture of bitter grit and big flashy fx set-pieces. We follow this with another big-budget sci-fi movie, THE TOMORROW WAR starring Chris Pratt - this one is currently available to watch on Amazon Prime.
Our third sci-fi movie is LAPSIS, an off-kilter look at the plight of workers who are part of enabling a new level of technology.
Then it is off to a post-apocalyptic future in MOLLY, a sequel of sorts to a film we covered way back in episode 95 called Kill Mode. Molly features a 30 minute fight sequence made up of long takes as its finale. Meanwhile our next film goes even further. CRAZY SAMURAI: 400 vs 1 sees real-life samurai Musashi Miyamoto (Tak Sakaguchi) enter into a 77minute one-shot, unedited fight scene against 400 angry warriors! 
THE SOUL COLLECTOR (aka 8) is the first of three horror films discussed in this episode, a folk horror film set in South Africa. This is followed by the atmospheric THE DARK AND THE WICKED where supernatural shenanigans occur around a rural farm.
Finally, we discuss WITCH HUNT, a film which it is fair to say took all of us by surprise!
Our Short Shot this week is THE RETURN OF DR BEES, from animator Harry Partridge. We highly recommend you also check out his other DR Bees shorts, DR BEES and #CHANGETHEBEES!
And finally...in our DTV Throwback we stand around and gawp at COLLISION, in which a clean-shaven Frank Grillo and his femme fatale wife get caught up in a traffic accident in the Moroccan  desert! This is available on Amazon Prime but be warned there are key moments missing subtitles!
Follow the Short Shots TWITTER page, where we will be linking to a short film every day! 
Don't forget to also check out our main show, the DTV DIGEST on TWITTER and FACEBOOK!