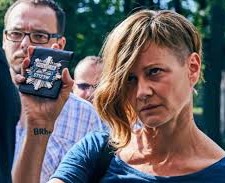 In this episode, Mike, Rich and Will take a look at three Euro thrillers available on streaming services. First up is THE TWIN MURDERS: SILENCE IN THE WHITE CITY (Netflix), set in Spain, in which a serial killer reappears after a long absence. From there we move to Hungary for TO THE WIRE (aka X) (Amazon Prime), in which a reclusive detective is forced back into the field when she discovers a series of deaths ruled as suicide were in fact murders. And finally we go to Poland for THE PLAGUES OF BRESLAU (Netflix), in which a killer is using a set of historical executions to take exact revenge.
Our Short Shot is LOST SOULS: MORTAL KOMBAT - a fan film using characters from the video games.
Finally, our DTV Throwback is FAULTS (Amazon Prime), in which a psychiatrist is hired to kidnap and deprogram a young woman involved in a cult.
Don't forget to like and subscribe to our Facebook and Twitter pages!