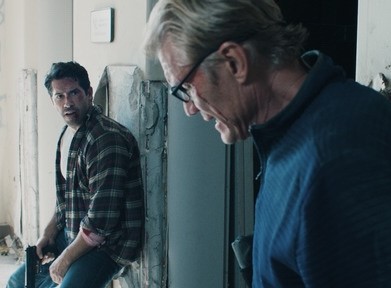 This episode features two of out semi-regular contributors, Will Bentley and Sean Malloy who we will definitely be hearing more of in 2022!
First up then is CASTLE FALLS, directed by Dolph Lundgren who also co-stars alongside Scott Adkins.
Next is our first Moroccan film, ACHOURA, a horror film which blends a narrative between adults and their past as children in a way which gives Stephen King a run for his money!
We follow this with PORTAL RUNNER, a low budget sci fi which slightly divided opinion between Steve and myself!
THE DARKNESS OF THE ROAD features Najarra Townsend (The Stylist) and actually managed to make me appreciate its moment of in-media res! 
Finally we review WRATH OF MAN in which Guy Ritchie directs Jason Statham in a clever and gritty thriller. This film has gone straight to Amazon Prime in the UK so was fair game for us to review!
Our Short Shot is THE HUNT: SAVAGE WITHIN  in which a Spec Ops team hunt an alien in the jungle, and manages to avoid comparisons to Predator!
Finally Finally, our DTV Throwback is FIFTY-FIFTY, a classic action comedy starring Peter Weller and Robert Hayes (Airplane) and peculiarly directed by character actor Charles Martin Smith (The Untouchables). This is currently available on Amazon Prime - check out the trailer, the voice-over makes it sound like Home Alone!
Follow the Short Shots TWITTER page, where we will be linking to a short film every day! 
Don't forget to also check out our main show, the DTV DIGEST on TWITTER and FACEBOOK!