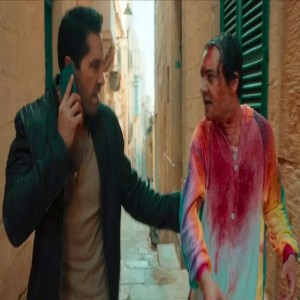 Monday Oct 31, 2022
Episode 215: Accident Man: Hitman's Holiday, Post Mortem,The Spine of Night, Summit Fever, Trafficked, Mean Spirited, Luna, Patient Zero
Mike, Rich and Steve tackle six new releases in this episode, kicking off with the one and only Scott Adkins in the long-awaited sequel ACCIDENT MAN: HITMAN'S HOLIDAY. This arrived with a huge buzz but does it live up to the hype? Check us out to find out!
Next up is POSTMORTEM, a Hungarian film about a photographer who takes family portraits which include recently deceased relatives. It's not long before things get spooky!
THE SPINE OF NIGHT is the latest film to be released from Shudder, and its an epic animated tale about the quest for power, told over millennia.
SUMMIT FEVER find some mountain climbers taking on a perilous quest to conquer three dangerous peaks.
TRAFFICKED is a "movie of the week" style tale involving Dean Cain trying to rescue a young teen who's been kidnapped into prostitution.
And MEAN SPIRITED is a comedy-horror about a Youtuber who's reunion with a childhood friend does not go to plan.
Our Short Shot is the Excellent LUNA - we absolutely love this so make sure you click the link, and you will see why!
Finally our DTV Throwback is PATIENT ZERO - a film we feel was given short shrift on its release - check it out on Freevee!
Follow the Short Shots TWITTER page, where we will be linking to a short film every day! 
Don't forget to also check out our main show, the DTV DIGEST on TWITTER and FACEBOOK!